Happy New Year! Especially to those of you who have found themselves being proposed to over this Christmas period and are now starting to think about your upcoming wedding! It's nearly the first day of 2013 - and I'm writing this blog to discuss all thinks fashionable and fabulous for 2013 weddings.
First of all, congratulations. Congratulations on the new jewellery addition you are now sporting on that ring finger, wear it with pride. I hope you're still on Cloud 9 from the excitement of it all, but it's time to start getting down to the nitty gritty. Planning that wedding!
2013 is going to be a fabulous year for fashion and creativity. I'm going to first talk to you about the trends that we will see from the fashion world that will wean their way into the wedding realm. It is what tends to happen, a trend or fad will start in the fashion industry, make it's transition from the catwalks into couture shops, from there it finds it's way into the high street that we all know and love, and then that fashion is sometimes then transferred into a woman's wedding planning. The reason that weddings are the last to receive the fashion trend, tend to be because planning a wedding takes so much time. So when the bride is deciding on colour tones and what style dress to wear - she looks at the culture around her, the magazines full of current styles and colours - then 6+ months down the line when the wedding is oh so very close, the fashion industry design something new, and the cycle repeats. This is normal, it doesn't mean to say that the bride is being unfashionable or "sooooo last spring, darling!"; the wedding world is a completely different ball game as to what is defined as "fashionable". I'm writing this blog to tell you lovely readers, what you can expect to see at any weddings you may be attending this year, whether or not it's your own.
Firstly, mint green. Perhaps my favourite colour trend that has ever come about. If you were to look in my own personal wardrobe at home the amount of this colour you will see is enough to make you sick of it... Even my bedroom walls have been painted this beautiful colour. It truly is a fabulous colour, and for 2012 it has been a popular colour choice in fashion.

Keira Knightley:
Diane Kruger:
The Queen even wore it on her own jubilee!
As we all know, each year when Spring comes around, we are bored to death of hearing "Pastel colours are going to be big this spring." - WE KNOW. Every year it's the same, but what I really do love about this particular pastel colour, is that the palest of the pale (such as myself) can pull it off without looking pasty or washed-out. This again is what makes it such a fabulous colour for bridesmaids, if in your bridal party there are mixture of skin tones, mint green is guaranteed to suit them all!

Pastels in general for 2013 are going to be all the craze I think, especially for those who have opted for the "vintage theme". Baby pink has proved popular over 2012, particularly at the end of summer, so perhaps this summer it will be even more popular.
The Vintage Theme, is also going to be THE theme of the year for 2013. The great thing about it is couples are able to interpret "vintage theme" however they want. They can add as much sentiment or originality as desired, and this means that not one wedding with this theme is ever the same. For example, "Vintage" could be anything. It could be taking inspiration from any particular era or decade, e.g. 1950s - this was proved popular over 2012 and reintroduced the fashion of tea-length dresses and birdcage veils. I think that we'll find the 1920s/1930s the most influential era for "Vintage" themed weddings this coming year, as we saw Art Deco fashion popular in retail and on the catwalks. Art Deco in the wedding fashion industry is already causing a stir, as proved by Amanda Wakeley in her new 2013 collection:
1920s styled brides, really are impeccably dressed. The photo below captures all the glamour and beauty this vintage style has;
The Chantilly lace, the glamorous waved hair and the cathedral length veil with that gorgeous capped headdress. It really isn't hard to see why this is going to be a popular look for 2013... Especially the capped veils! The capped veils just complete this fabulous look and are the piece-de-resistance for any 1920s vintage-themed bride!
Continuing with this vintage fashion for 2013, the men will have some involvement too! Forget cravats, and welcome the bowties. Bowties of any size, colour or pattern - this simple little piece of fabric is going to be big for this coming year. What's fabulous about them is that they give a groom the chance to get involved in the vintage theme too, in a very quirky and stylish way.
Not only do I think the bowties are going to be a hit - what's going to be more fashionable is bowties with a pattern on them. Paisley, polka-dot, floral, velvet, you name it - he can wear it.
So why not get your hubby-to-be to wear this staple fashion piece of 2013, to heighten the quirkiness, the trendiness and the fun factor.
I personally adore this vintage lace mint green one - it wraps all the wedding trends for 2013 up in one!
Bows in general are going to big for 2013, not just to around the necks of the groomsmen; expect to see them in hair, on flower girls, in bouquets and on wedding dresses:
Most importantly however is the bows that will be on the wedding dresses. The little detail can make such a huge impact on the dress and how it looks; such as this beautiful silk gown by Ritva Westenius (below). This dress to look at is rather plain, but it has that fabulous matching silk bow that practically covers the entire waist area, giving an illusion of a seriously tiny waist. What else is wonderful about this dress?... It has pockets!
Style: 598801
Pockets are a great little bit of detail and fun in your wedding dress, and on big skirts like this one, they're well disguised so people won't actually notice them until you start posing with your hands casually in your pockets. They're great for storing your lipstick too - just for touch-ups after dinner!
Pronovias - Style: Dakar
Nature will play a huge theme in many weddings in 2013. With outdoor venues becoming more and more chic, expect to see nature involved in a lot of weddings. Couples start taking inspiration from the location of the venue itself and turning it into a nature filled theme; this means bird motifs, wild flowers, feathers and bohemian looks all coming together for one wedding.
Bird motifs and inspiration will be a plenty, on invitations and in the décor...
Wild flowers will decorate the bouquets and floral arrangements...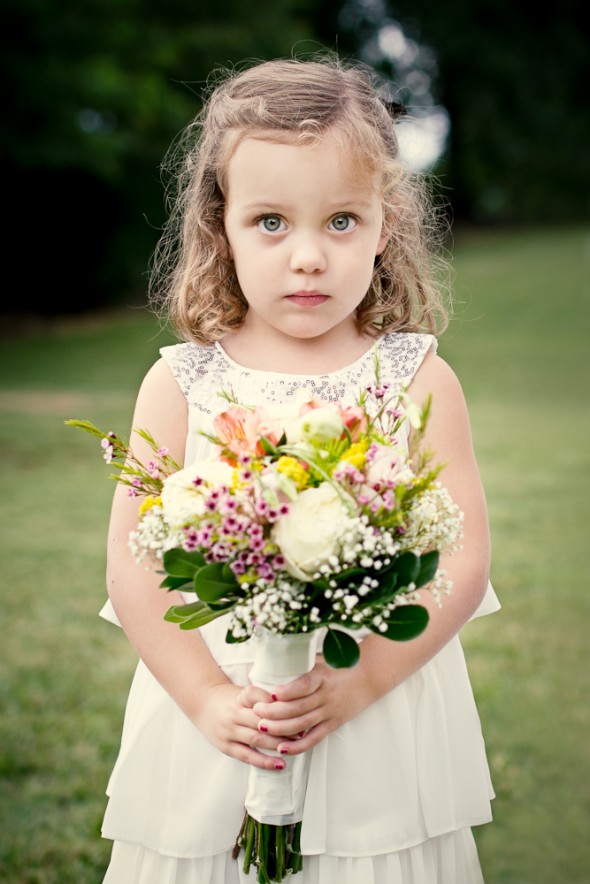 Feathers on dresses has started to become quite a desirable style for many brides, Pronovias designers have proved this through many of their designs for their 2013 collection.
Pronovias - Style: Benicarlo
So that's everything (for now) about 2013 weddings! I could go on and on, but what I have listed is what I believe is going to take weddings by storm for this fantastic new year.
This by far has been our longest post, and I hope it can help to some of you ladies and keen wedding planners, by opening your eyes into the fashions and upcoming trends of 2013. Keep your originality flowing and your ideas sparking - this is the year of individuality.
If anybody else has any other trend predictions or some fantastic ideas for their big day in 2013, share them below in the comments - sharing is caring!
Happy New Year, and much love to you all.
X